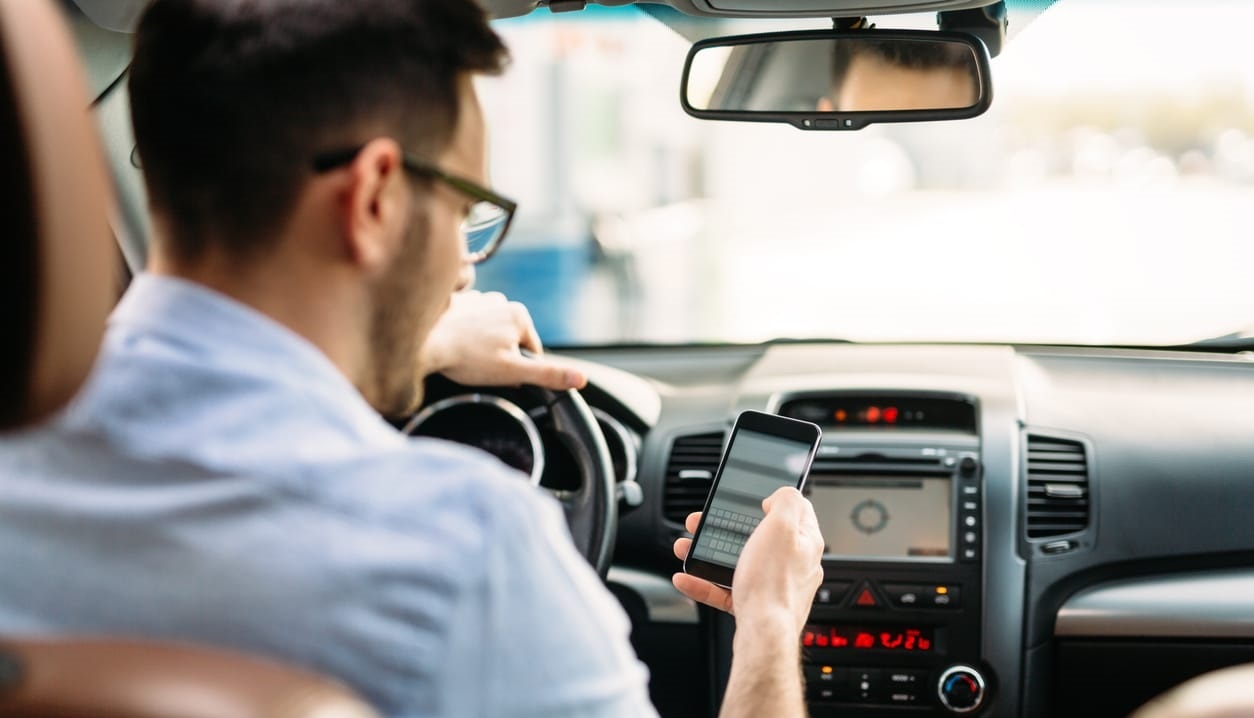 Distracted Driving In RI – What To Know
Distracted driving in Rhode Island is one of the leading causes of car accidents, not just in the state, but across the country. More than 3,000 people died due to distracted driving in 2019 alone. Cell phones are a major part of this epidemic. In order to deter distracted driving, Rhode Island recently enacted hands-free laws for cellphone usage. But what does the hands-free law entail? What counts as distracted driving, and what can lead to fines or tickets? That's what the Rhode Island personal injury lawyers at Petrarca law are here to clear up. 
Here's everything you need to know about the risks of distracted driving, along with an explanation of Rhode Island's hands-free law. 
Types of distracted driving
According to the DMV, there are 3 different types of distracted driving. Manual, Visual, and Cognitive. 
Manual driving distractions are those that involve taking one or both hands off of the wheel. Examples of manual driving distractions include: 
Eating and drinking

Smoking cigarettes

Searching through a bag or wallet 

Adjusting knobs in your car
Visual driving distractions are those that draw your eyes away from the road. Examples include: 
Searching for items in your car

Checking your GPS or radio

Adjusting your temperature controls

Watching scenery instead of the road
Cognitive driving distractions are those that shift your mind away from driving. Examples include:
Talking to a passenger 

Driving while emotionally upset

Daydreaming or fantasizing

Being under the influence of drugs and/or alcohol
Some distractions might overlap, such as applying makeup. Cell phone usage is one of the biggest causes of distracted driving, because it involves all three kinds of distractions. 
Why is texting while driving dangerous? RI Texting and driving statistics
At any given moment, around 660,000 drivers are using their phones. While checking your email on the way to work might seem harmless, taking your eyes off the road even for a few seconds can have serious consequences. 
According to the NHSTA, sending or receiving a text takes your eyes off the road for 5 seconds. At 55 mph, that's the equivalent of driving the length of a football field with your eyes closed. Texting while driving leads to thousands of unnecessary crashes, injuries, and deaths every year. This has led to the creation of new laws to combat the use of cell phones while driving. 

Does Rhode Island have a hands-free law? Rhode Island driving laws 
Yes. In 2018, Rhode Island passed its official hands-free law. This means that drivers can't hold or operate a cell phone while driving. 
This doesn't mean that you can't answer important calls or texts, however. You can still use hands-free technology to stay both connected and safe behind the wheel. Here's how the Rhode Island hands-free law works. 
How does Rhode Island's distracted driving law work?
The Rhode Island hands-free law prohibits "operating a motor vehicle while using a hand-held personal wireless communication device to engage in a call while a vehicle is in motion." Essentially, this prohibits holding a phone in your hand or up to your ear while driving. 
You can still use your car's Bluetooth system, earphones, headsets, and other wireless technology to make and receive calls and texts. But headphones and headsets can't cover both ears. You can also talk on speaker, so long as you aren't holding the phone in your hand. 
Rhode Island also allows the use of GPS apps while driving. However, you should either input the address prior to your trip or pull over to type out a new address. You should also refrain from holding your phone while using the GPS. Instead, use a dock or holster to keep your phone secure.
What is the penalty for texting and driving in Rhode Island?
If a police officer observes you holding a phone or texting while driving, you can be pulled over and fined up to $100. If you're a first-time offender, it may be possible to waive the fee if you can provide proof of purchase for a hands-free device. 
Can I fight a Rhode Island hands-free violation?
Yes. If you've been wrongfully accused of violating the Rhode Island hands-free law, it's possible to dispute the charge. You can provide evidence that proves you weren't using your phone at the time, such as cell phone logs or records. 
Contact a Rhode Island distracted driving attorney if you need help fighting a hands-free violation. 
I was injured by a distracted driver. Can I sue?
Yes. If you were injured by a distracted driver, it's possible to file a personal injury lawsuit against them. While insurance might cover medical bills and other expenses, you might need more compensation than what the insurance company can offer you. It's possible to sue for 
Pain and suffering

Lost Wages

Therapy bills

Property damage 
Rhode Island operates under a system of pure comparative negligence. This means that it's possible to collect damages, even if you're partially at fault. 
For example, let's say that you're suing a distracted driver for $100,000 in medical bills. If the court determines the driver who injured you was 70% responsible for your injuries, they are responsible for paying 70% of your bills – or $70,000. 
What's the statute of limitations for distracted driving?
In Rhode Island, the statute of limitations for personal injury cases is 3 years. The statute of limitations for property damage and wrongful death is 10 years. You can only file for a lawsuit within this window of time. The clock starts ticking immediately after your accident, so it's imperative to speak to a Rhode Island personal injury lawyer as soon as you can.
Who are the best lawyers for distracted driving in Rhode Island?
If you've been injured in a car accident due to the negligence of another driver, call us. As proven Providence personal injury lawyers, we have experience winning large sums for our clients. 
We can help you file paperwork, negotiate with insurance companies, and even represent you in court. We'll fight tirelessly for your rights and do everything in our power to get you the financial help you need. All you have to do is focus on your recovery. 
Call our office today for a free consultation.