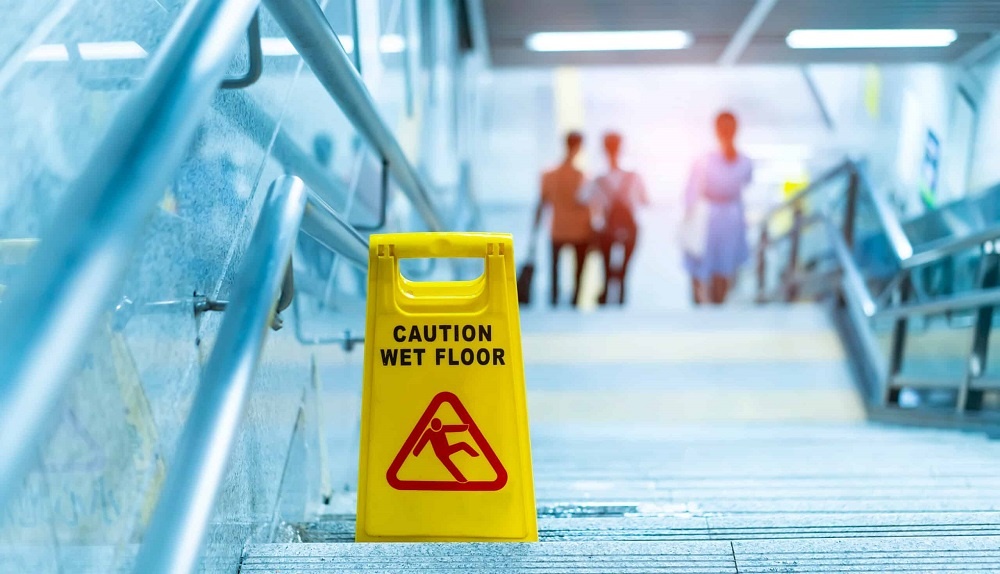 Premises Liability Law And How It Works in Personal Injury Cases
When you step foot in a public place, you expect it to be safe. But if there's a hazard in your way, like a slippery substance on the floor or an unsecured dog, your life could change in a moment. And if you've suffered due to another person's negligence, then you may be able to file a lawsuit under premises liability law.
Learn more about Rhode Island personal injury cases that fall under premises law, how to get a premises liability statement and more from a Providence personal injury lawyer.
What is premises liability law?
Essentially, a premises liability lawsuit holds a property owner responsible for injuries that occur on their property.
In all states, people who own property have a duty to ensure that it's safe for those who visit. It's called a "duty of care." If they fail to live up to that duty and cause you to suffer an accident or injury, you could file a Rhode Island personal injury claim.

How do I file a premises liability lawsuit?
To prove that the property owner is liable for your injuries in a RI personal injury case, you'll need to show that they neglected their duty of care in some way — such as if they were aware of a potential hazard on their property, but did nothing to fix it.
Specific personal injury cases that may involve premises liability law include:
Slip and fall accidents
"Slip and fall" is a legal term for personal injury cases that happen when you slip or trip on another person's property. They're one of the most common personal injury cases that fall under the umbrella of premises liability law.
Over one million people visit the hospital annually due to slip and fall accidents. And one out of every five causes a serious injury, like a fracture or a TBI.
Examples of common slip and fall hazards that could lead to an injury include:
Wet or slippery floors
Torn carpeting
Broken or bumpy sidewalks or tiles
Ice or snow buildup
Poor lighting
What's more, older people may be at a higher risk of suffering consequences from a fall. Falls are the leading cause of fatal and non-fatal injuries for older adults — and around 30% of falls occur in a public setting.
No matter how old you are, injuries suffered can seriously limit your mobility, which could impact your quality of life
Dog Bites
Sometimes, personal injury claims that involve dog bites fall under premises liability law. For instance, If you're bitten by a dog on someone else's property, and the dog owner failed to keep their dog secure or properly warn you, especially if the dog has a violent history, then premises law may come into play.
However, other factors may affect your claim, such as if you antagonized the dog into attacking. You can learn more in our blog on dog bite personal injury cases.
Falling tree accidents
Premises liability law can come into play if you're injured by a falling tree or branches, on someone else's property.
For example, imagine that a dead tree branch falls on you and fractures your arm. You could argue the property owner should have known the dead branches were a hazard, yet failed to trim the tree.
Who pays for a premises liability claim?
In some cases, you can file a claim with the property owner's insurance company. You can also file directly against the property owner if they don't have insurance, or have inadequate insurance.
Additionally, if an accident, such as a slip and fall, happens at work, your employer's workers' compensation insurance may be able to help.
Rhode Island's worker's compensation law stipulates that all employers have to carry this insurance to cover workplace accidents and other injuries that could result from your job.
What about accidents on rental property?
What if you suffer a slip and fall accident in your apartment or a commercial building that you lease?
If you can prove that the landlord knowingly neglected their duty to keep the property safe in some way, then you may be able to file a claim.
For example: Say you tripped on the stairs leading to your apartment and broke your leg. If you previously voiced your concerns to your landlord about a broken step on the staircase, and your landlord didn't attempt to repair it, you may be able to file a claim.
As of 2022, Rhode Island landlord laws also require landlords to hold a general liability insurance policy of at least $100,000 to cover injuries that happen from dangerous conditions on their property.
What if I'm partially responsible? Can I still get premises liability settlements?
Even if you're partially responsible for your injury on someone else's property, you may still be able to receive compensation in a lawsuit, thanks to Rhode Island general laws.
Rhode Island operates under a principle called "comparative negligence." Essentially that means multiple parties can be assigned a "percentage" of fault when an accident occurs.
Regarding the staircase example, say you trip on a faulty staircase at a store, but it's in an employee-only area. You break your leg, and your medical bills total $10,000.
The property owner has a duty to keep the area safe for those who enter it: However, you were in an area normally off-limits to guests, placing some of the fault on you. The insurance company may decide that you were 50% at fault, and thus pay 50% of your claim: $5,000.
What's the statute of limitations for premises liability lawsuits?
You don't have an unlimited window of time to file a lawsuit. The statute of limitations in Rhode Island for civil offenses, including claims that fall under premises liability law.
For Rhode Island personal injury cases, the statute is three years after the date of the accident. In other words, the "clock" starts ticking on the day of your accident.
If you want to file a lawsuit before time expires, it's important to start the legal process immediately. That's why you need the help of an RI personal injury lawyer you can trust.
Who's the best personal injury lawyer in Providence, Rhode Island?
If you've suffered injuries due to the negligence of someone else, Petrarca Law is here for you. We're the best lawyers for slip and fall cases or other accidents that fall under premises liability.
We'll help you determine eligibility for filing a personal injury case, submit the paperwork, and fight tirelessly for your rights. We'll do our best to help you get the slip and fall settlements you deserve — so you can focus on getting your life back on track.
Contact our office today for a free consultation of your case. Remember, find a Providence Lawyer that will relentlessly fight for you.